2016 Farm Show
It was the 100th anniversary of the Pennsylvania Farm Show, and 30 people affiliated with many of the HLAA-PA chapters were there between January 9th and January 16th to staff our Information Table, the 7th time we have done this.
First-time particpant Kathy Harral spoke for all of us when she said: "Enjoyed working at the show immensely. Met SO many nice people that stopped by, a lot of them not even HOH. The highlight for me was talking at length to a 8-10 year old girl with a CI. She was with her girlfriend and the two dads were wearing chaperone name tags. Her father thanked me profusely for talking with her, saying she loves to talk with others with hearing problems."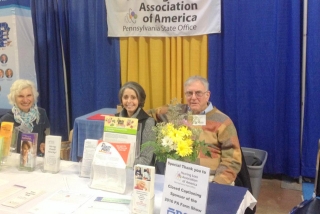 Our new location between the winery exhibit and Punxsutawney Phil increased our visibility greatly. In addition, thanks to a grant from a charitable foundation, HLAA-PA was able to sponsor 15 hours of captioning for programming by the Pennsylvania Cable Network of some of the major events at the Show. As a local radio announcer used to say at the start of each daily broadcast, "It's a great day in Pennsylvania".
Thanks to Steve Schultz for once again making it all happen!
Emilio Cortez Gets Finisdore Advocacy Award
Emilio Cortez will receive the Marcia Finisdore Award for Advocacy for 2015. Dr. Cortez and his wife Patty Cortez have been alarmed at the very high sound levels that they've encountered at restaurants, entertainment facilities, and especially at gymnasiums, where people are presumably concerned about their well being. They have spearheaded the HLAA-PA Turn Down the Volume campaign to educate the public about the danger of Noise Induced Hearing Loss.
Patty is a past president of the MontCo Chapter of HLAA.
The award will be presented at the Lunch & Learn program on May 7, 2016.